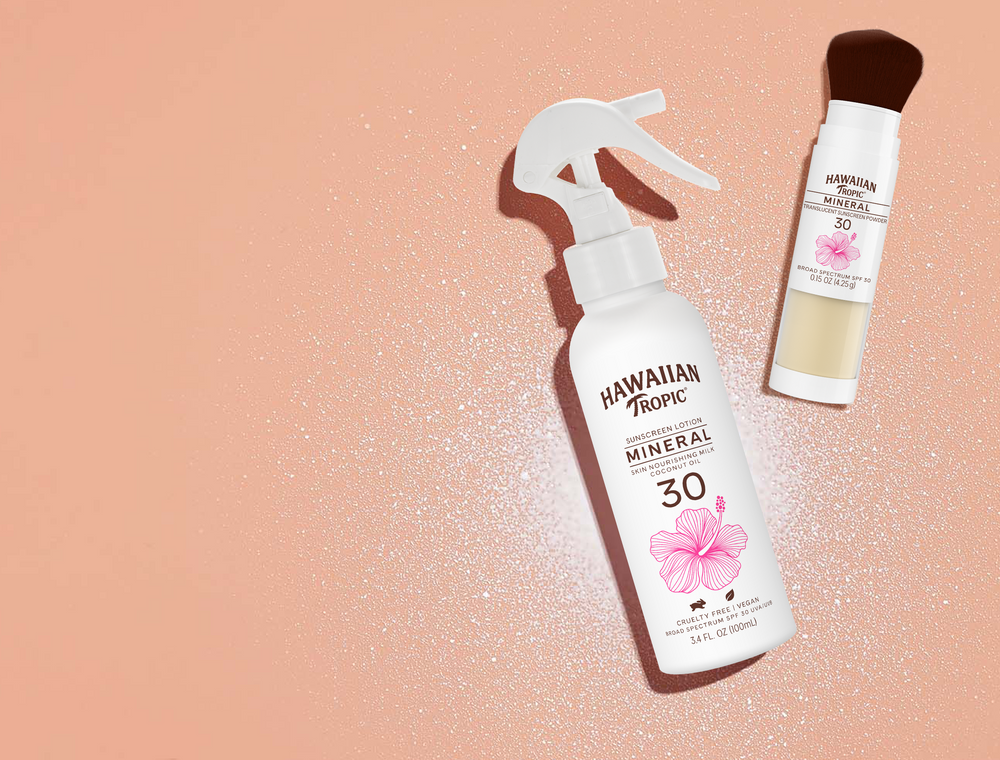 meet the minerals
Protect and nourish your skin with vegan-friendly 100% mineral SPF without chemical filters—and no white residue, either.
Return to the top of the page
Learn More About Mineral Sunscreen
Mineral sunscreen, also called physical sunscreen, contains active ingredients, such as zinc oxide or titanium dioxide, that create a barrier on your skin that reflects UV rays. Our 100% mineral sunscreens are made with 100% mineral active ingredients without chemical filters or parabens and sit on the skin's surface and physically block UVA and UVB rays. Hawaiian Tropic mineral sunscreens are offered in 100% mineral and mineral-enriched sunscreen formulas.
Our mineral sunscreen comes in formulas for body and face. Choose the right Hawaiian Tropic mineral sunscreen for your needs:
Skin Nourishing Milk SPF Lotion and Spray: Our lightweight skin-nourishing formula that is ultra-spreadable and uniquely formulated to not leave behind a white cast. These travel-sized sunscreens are made with 100% mineral active ingredients and are the perfect addition to your beauty routine. Choose from SPF 30 Sun Milk Lotion, SPF 50 Sun Milk Lotion, SPF 30 Sun Milk Spray, or SPF 30 Mineral Milk Face Sunscreen.
Mineral Powder Brush: A convenient way to apply and reapply your SPF throughout the day. This SPF BFF provides 30 SPF protection with 100% mineral active ingredients. It's the perfect addition to your daily beauty routine and is travel friendly for on-the-go sun protection.
Matte Effect Lotion: This mineral-enriched sunscreen mattifies your skin and is luxuriously lightweight. This non-sticky and non-greasy sunscreen absorbs excess oil, making it an ideal daily sunscreen for your face and body. Choose from SPF 30 Matte Effect Lotion or SPF 50 Matte Effect Lotion.
Looking for more sun protection? Here are some other Hawaiian Tropic collections you might be interested in:
We've got you covered with the latest in suncare. Check out new Hawaiian Tropic products.